3 valuable secrets from Floritage's Perfume Workshop in Prague
What is aromachology and why should you care?
Aromachology is the study of the influence of scents on human behavior and to examine the relationship between feelings and emotions. (– wikepedia)
Your signature scent plays a part of your sense of self. It defines who you are and what you want to tell the world about your personal style.
Aromachology and the concept of perfumes have always been perceived to have a significant bond. Even Dr. Alan Hirsch, a neurologist, and director of the Smell and Taste Treatment and Research Foundation in Chicago, had also asserted that "scents are connected to our mind and behavior".
Is it your eyes? Or the real window to your soul may be your signature fragrance?
The Influencer Creation Team had the opportunity to learn more about the arts and crafts as well as the psychology of perfumery, through the master workshop hosted by the Floritage team in Prague.
*spoiler alert – you will never experience perfume in the same way again!
1) First, know your basics – perfume101. So how much do you know about personalizing perfumes? Let's start with the notes:
Top note – The strongest scent and what you'll smell within the first 10-15 minutes.
Heart note – The body of the perfume (middle note). These are the scents that harmonize with your skin.
Base note – It is that richness and boldness from the scents that linger throughout the day.
2) Dive into your personality.
Be self-expressive and allow yourself to bring out your unique personality through scent. What is a part of you that you wish to highlight? Is it your femininity, or your elegance? Every scents are entwined with a particular trait.
3) Identify the scents and reflect it to your emotions.
What does sweet tobacco remind you of? How does the sweet smell of vanilla make you feel? Each scents work in mysterious ways and its influence on our mood and behavior are irreplaceable.
Undeniably as we mingled and played with each scent to create our own custom blended fragrance, we explored and examined a closer identity of ourselves.
Floritage expertly executed the event with their fantastic workshop tackling both a way to entertain and excite their guests while teaching a deep experience of perfume artistry.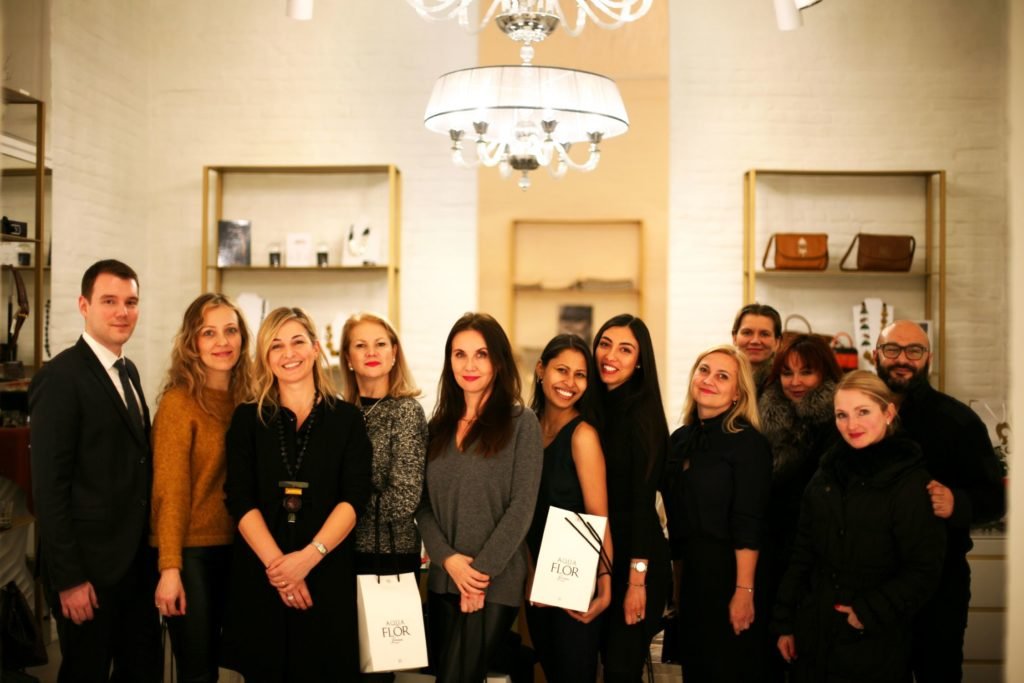 About Floritage
Floritage is a luxury handmade store located in the heart of Prague. Currently they represent seven prestigious Florentine brands:
ANGELA CAPUTI
GIULIA MANGANI
AQUA FLOR
BUSATTI
EMMA
MIGONE
SCUOLA DEL CUOIO
*New Development – Due to the success of AquaFlor products, Floritage has decided to partner with
AquaFlor Italy to set up a monobrand shop right in Prague's city center!
To learn more, go to floritage.com and follow them on social for upcoming events.