Looking for great gifts for her? Don't sweat! – Here are our 5 gift picks for just under $100.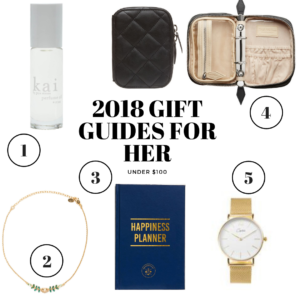 Made with essential oils and layered with rose absolute, this fragrance is presented in a roll-on vial and features notes of rose absolute, gardenia and white florals.
The Happiness Planner isn't your average planner. It's a planner that helps you focus on your happiness. Through it's prompts and guidance, it aims to help create a more positive and happy you!
Trish McEvoy's patented Makeup Planner is the one-and-only portable makeup vanity. A fully customizable cosmetics organizer, it will put an end to makeup disorder at home and on-the-go.
Sweet Meets Glam In This Amazing Choker. It's Such A Versatile Piece That We See It With Jeans And Dresses.
5.) Capitola Watch Discount 15% (Use INFLUENCERCREATION)
The Mesh collection is perfect to combine with your casual and informal looks. The dial is minimalist and ultra thin, which makes it light and comfortable to wear anywhere. This collection has the essence of Capitola Watches.
Note, this article includes affiliate links. We only provide recommended products and services that we personally like and approve. By shopping our links, it help us earn a small commission which allow us to continue providing tips and useful content for the Influencer Community. – Thank you!